The Pull #7: On Sale 3/13/19
Who's heading to ECCC?
Hello and welcome to The Pull! Each week, we (Ghost, Reed & Samantha) put together a definitive list of comics we're most looking forward to reading. Then we send it off to you, to pick and choose from our pull list as you please.
This week, we have 13 titles for your perusal. Did we miss something really great? Let us know in the comments or hit us up on Twitter @ItsThePull!
---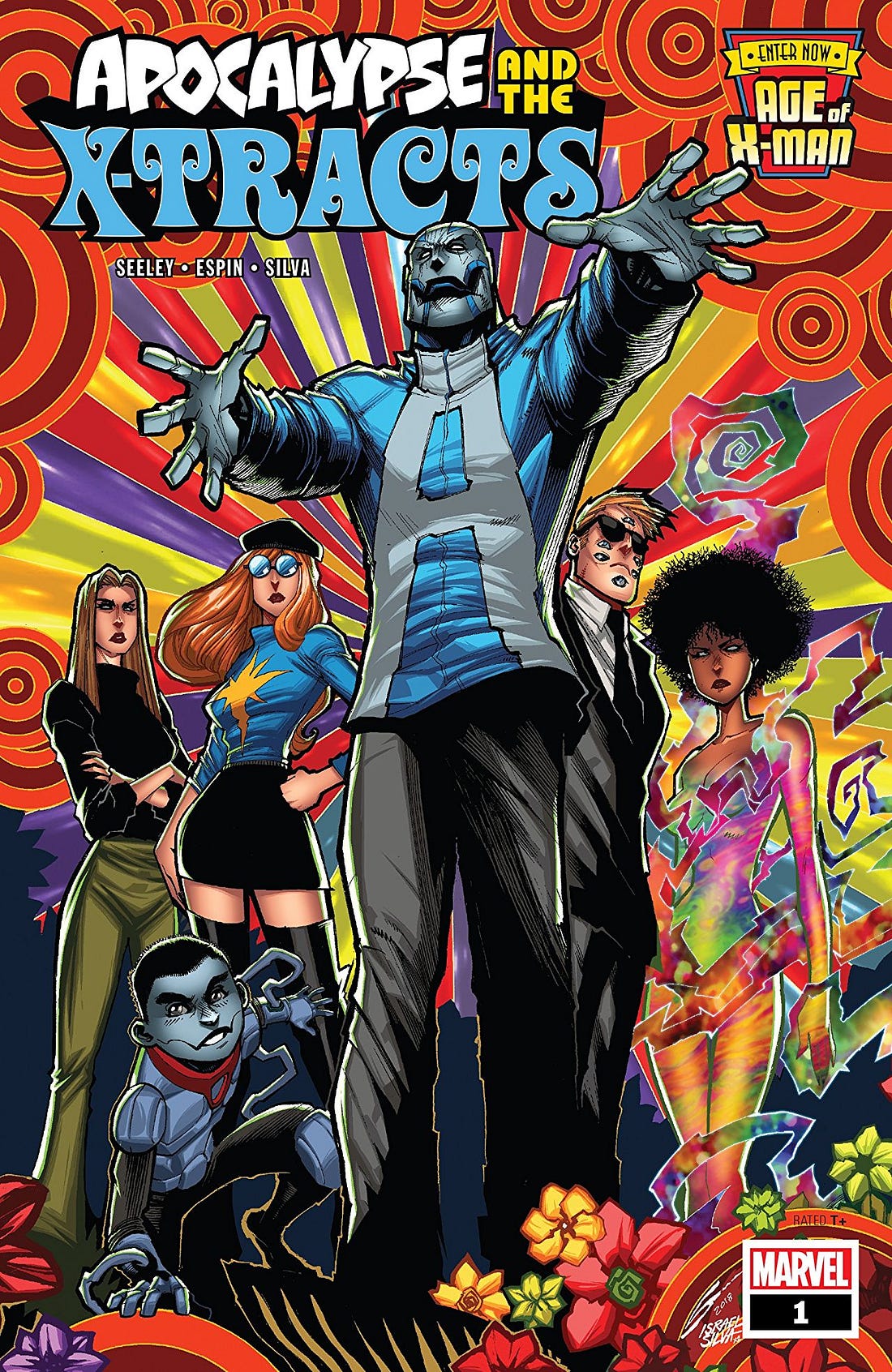 Age of X-Man: Apocalypse and the X-Tracts #1
Writer: Tim Seeley
Artist: Salva Espin
Colorist: Israel Silva
Letterer: VC's Travis Lanham
Cover Artists: Gerardo Sandoval & Israel Silva
Publisher: Marvel Comics
Ghost: After the stunningly good Shatterstar mini, I'm pretty sure that I'm just going to buy anything Tim Seeley writes from now on. This is a wacky concept, but I will not sit out the chance to see the polar opposite side of this shiny, perfect world. Also, I could never say no to Dazzler in a book.
Samantha: So this is the last #1 in the Age of X-Man event and from what I can tell, it's the one that's been hinted at most in the other series… I'm looking forward to seeing how this take on Nate Grey's dystopia plays out, especially considering who's on the X-Tracts team.
Reed: Sex cult. Sex cult. SEX CULT.
Age of X-Man: Marvelous X-Men #2
Writers: Zac Thompson & Lonnie Nadler
Artist: Marco Failla
Colorist: Matt Milla
Letterer: VC's Joe Caramagna
Cover Artist: Phil Noto
Publisher: Marvel Comics
Ghost: It's starting to get a little ridiculous that all the Age of X-Man books are this good. The preview pages released last week only served to pique my interest that much more about what this world has in store for us. This world is serene and extremely haunting in ways X-books haven't given us in years.
Samantha: This constructed world is truly starting to dissolve… but where will that leave everyone? How do emotions like rage and fear factor into a world where love is outlawed? I'm so fascinated by the different takes on this world and Marvelous X-Men is likely going to encompass all the major tilting points for this event since Nate is actually involved as a character, rather than just playing god, in this mini-series. Personally, I can't wait.
Assassin Nation #1
Writer: Kyle Starks
Artist: Erica Henderson
Letterer: Deron Bennet
Publisher: Image Comics/Skybound
Samantha: If you love '80s action movies, I highly recommend you read Assassin Nation. This sure-to-be-absurd mini-series from Skybound features a script by Master of Jokey Fight Books Kyle Starks and art by the incomparable Erica Henderson, a team-up that is truly perfect for this tale. I interviewed Starks and Henderson for The Beat and spent a lot of time laughing at them giving each other guff. If you want to read something funny that's also "wild with murder," pick this up for sure.
Blackbird #6
Writer: Sam Humphries
Artist: Jen Bartel
Layout Artist: Paul Reinwand
Colorist: Tríona Farrell
Letterer: Jodi Wynne
Publisher: Image Comics
Samantha: Blackbird #6 completes the first arc of this magical story by Sam Humphries and Jen Bartel. It took a while for me to get into this story, but now I'm raring for the next arc! Bartel's interiors have gotten so much stronger and more dynamic and Humphries' dialogue gets better with every issue. I'm truly invested in these characters and wherever they're headed next.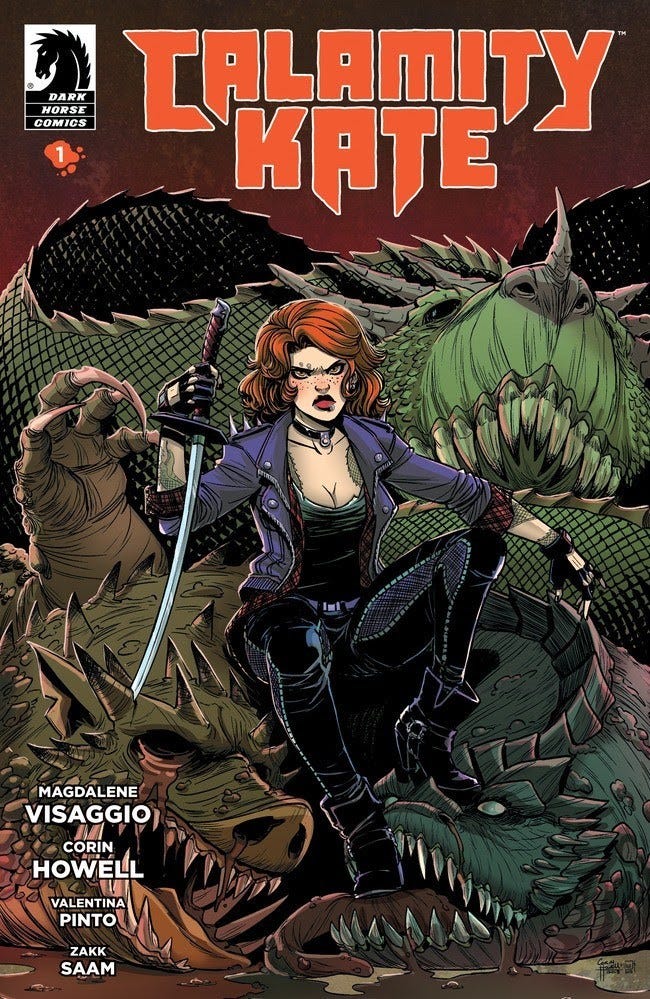 Calamity Kate #1
Writer: Magdalene Visaggio
Artist: Corin Howell
Colorist: Valentina Pinto
Letterer: Zakk Saam
Publisher: Dark Horse Comics
Samantha: A western-style monster-hunter book written by Magdalene Visaggio? Sign me the eff up.
Catwoman #9
Writer: Ram V
Artist: John Timms
Cover Artist: Joëlle Jones
Publisher: DC Comics
Samantha: I'll admit that I am not following the current Catwoman run, but Ram V wrote this oneshot and the previews he's shared on Twitter make it seem like a raucous good time. My exposure to Catwoman is largely limited to Michelle Pfeiffer's interpretation of the character in Batman Returns, but I was obsessed with her. Maybe it's time to start picking up some Catwoman comics, you know?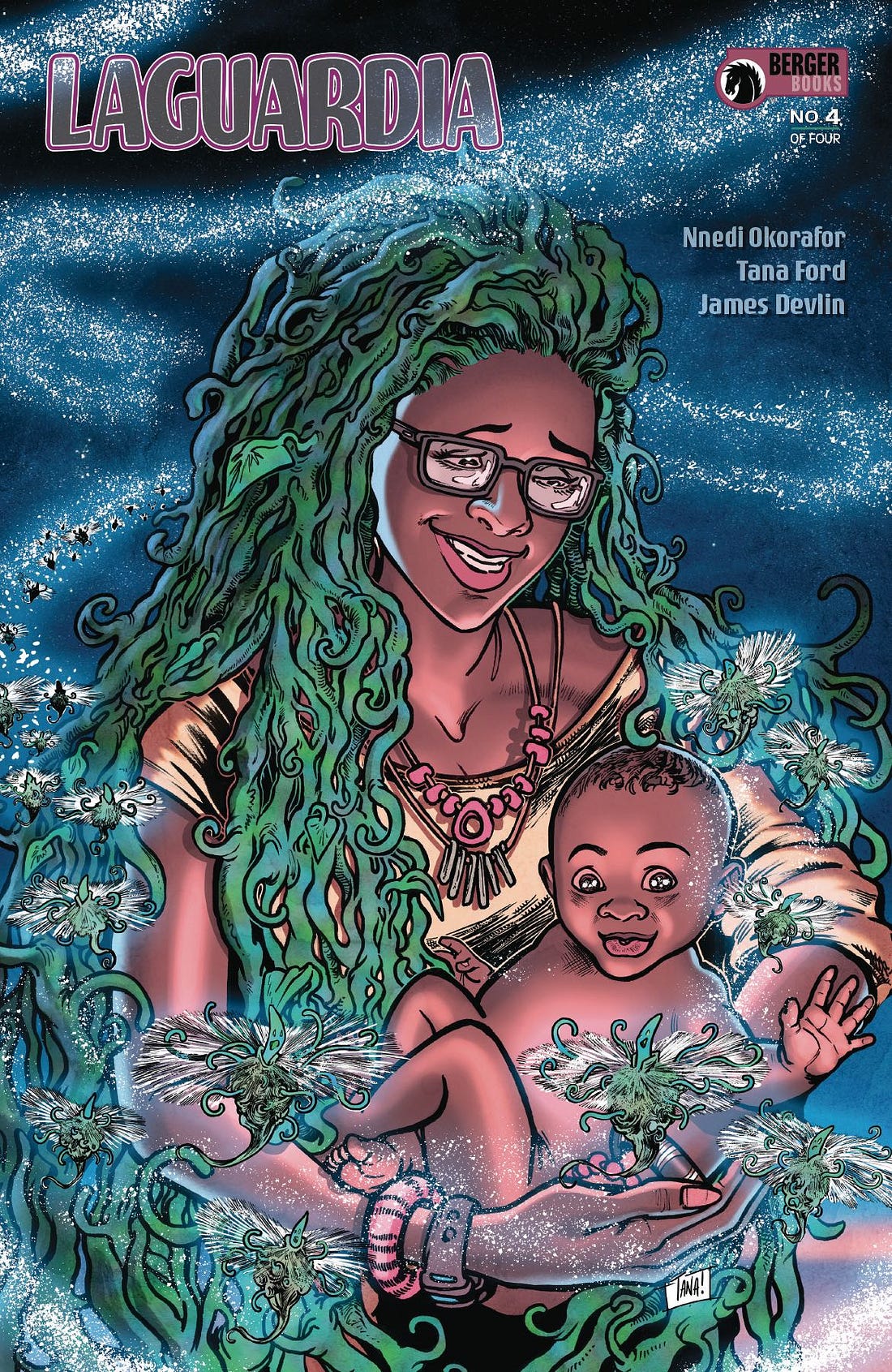 LaGuardia #3
Writer: Nnedi Okorafor
Artist: Tana Ford
Colorist: James Devlin
Publisher: Dark Horse Comics/Berger Books
Samantha: Nnedi Okorafor is a master of science fiction and the way she weaves the story in LaGuardia is just beautiful in every way. Tana Ford's art is perfect and James Devlin's color work is stunning. I have only good things to say about this series and I cannot recommend it enough.
Livewire #4
Writer: Vita Ayala
Artists: Raúl Allén & Patricia Martín
Letterer: Saida Temofonte
Cover Artists: Adam Pollina & Kalman Andrasofszky
Publisher: Valiant Comics
Samantha: Guh. Every issue of Livewire is better than the last and the stakes are so high. Following the devastating conclusion of issue #3, seeing how Amanda copes with what's to come is sure to be highly emotional and super intense. This is easily one of the best ongoing series out there right now and I'm so eager to get my hands on issue #4.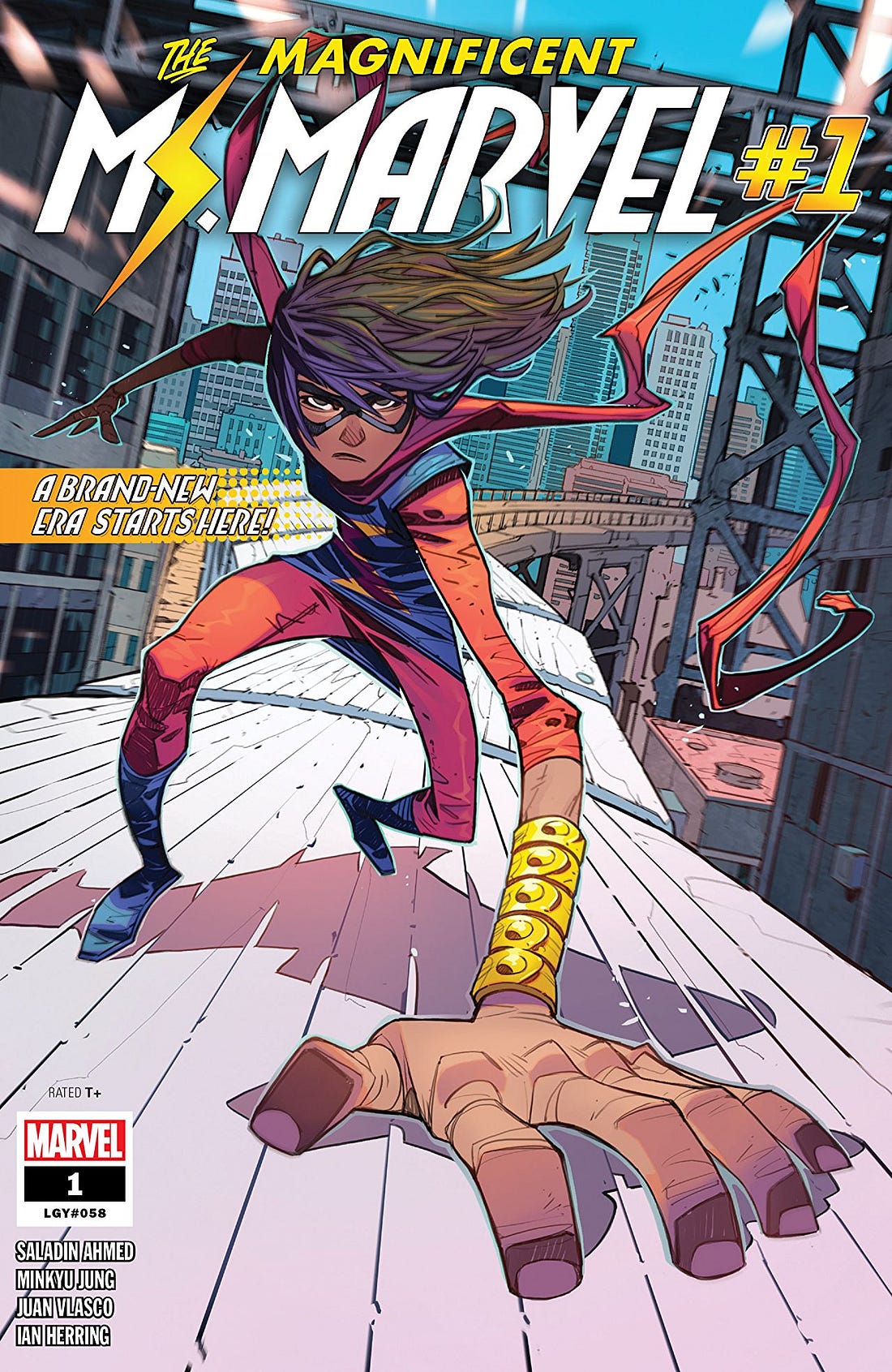 The Magnificent Ms. Marvel #1
Writer: Saladin Ahmed
Artists: Minkyu Jung & Juan Velasco
Colorist: Ian Herring
Letterer: VC's Joe Caramagna
Cover Artist: Eduard Petrovich
Publisher: Marvel Comics
Samantha: This brand-new era of Ms. Marvel is sure to pack a punch and since it's the start of a whole new series, it's the perfect jumping-on point for ANYONE, whether you're an avid Kamala Khan fan or a new reader who doesn't know anything about her story yet. Kamala has proven to be a driving force for Marvel over the last five years and it's easy to see why. I can't wait to see how Saladin Ahmed and the new creative team handle her character in this series.
Reed: Saladin Ahmed's previous books for Marvel have been filled with equal helpings of joy and camp alongside socially conscious high stakes. Black Bolt was my best comic of 2018 and Exiles was a blast of fun injected into a rather lackluster X-line. Miles Morales: Spider-Man has been a staggering, but wonderful, read. So if G. Willow Wilson has to leave Ms. Marvel, there's no one I'd rather have take the reins. I'm ecstatic to see to what new heights Ahmed will take Kamala. In the words of Kamala's heroine, Carol Danvers: higher, further, faster, more.
Moonstruck, Vol. 2: Some Enchanted Evening
Writer: Grace Ellis
Artist: Shae Beagle
Pleasant Mountain Sisters Artist: Kate Fajardo
Colorist: Caitlin Quirk
Letterer: VC's Clayton Cowles
Publisher: Image Comics
Samantha: I feel like I have been waiting so long for new Moonstruck! Image changed this series from monthly single-issue releases to exclusively TPB collections after the first arc and I was devastated, because I so looked forward to reading this every month. BUT NOW VOLUME 2 IS HERE! This quirky, queer, magical romantic comedy is utterly delightful and if you haven't read the first volume, I highly suggest you grab a copy and then immediately dive into the second volume when you're done! I expect I'll write a full, proper review about this TPB at some point, so stay tuned.
Reed: Moonstruck is cotton candy. It's sweet, kind, magical, queer fun that everyone can enjoy. I'm beyond excited that Volume 2 has finally arrived (the book switched to trade-only releases last year) and can't wait to get my hands on a copy. It's perfect reading for the last dregs of winter, so make a cup of cocoa and get ready to have your heart warmed!
Spider-Gwen: Ghost-Spider #6
Writer: Seanan McGuire
Artist: Takeshi Miyazawa
Colorist: Ian Herring
Letterer: VC's Clayton Cowles
Cover Artist: Bengal
Publisher: Marvel Comics
Samantha: Gwen Stacy really just wants her life to get back to normal, but can that exist for the only remaining spider-person who can travel between realms? I absolutely love Seanan McGuire's handle on this character and Takeshi Miyazawa's art is super dynamic. Everything about Gwen in this series is painfully relatable and so, so beautifully, tenderly rendered. If you're not following this run, you are seriously, seriously missing out.
X-23 #10
Writer: Mariko Tamaki
Artists: Diego Olortegui & Walden Wong
Colorist: Chris O'Halloran
Letterer: VC's Cory Petit
Cover Artist: Ashley Witter
Publisher: Marvel Comics
Samantha: I'm pretty sure this is the conclusion to the current x-assassin arc and frankly, I know it's probably going to end badly and I'm ready for that. Gabby and Laura are at odds when it comes to how to deal with their cyborg clone-sisters, but one way or another, they're going to have to move forward after yet another massive fight with a Big Bad is over. I'm really loving this X-23 run and I always look forward to picking it up.
X-Force #4
Writer: Ed Brisson
Artist: Dylan Burnett
Colorist: Jesus Aburtov
Letterer: VC's Cory Petit
Cover Artists: Pepe Larraz & Marte Gracia
Publisher: Marvel Comics
Ghost: Same pick, different week. I will literally go to bat for this X-Force book until someone pries it out of my cold, dead hands. As we continue forward, Brisson and Co. continue to pick up steam. Dylan Burnett's art continues to astonish and amaze me and even if the scripting isn't enough to get you onboard, the art should be. Please pick this up if only to look at the stunning visuals inside.